We need your help!
Starship SpaceX Wiki needs your help! We search new writers, designers and illustrators. If you feel that something is anything missing on an article, give it a try and edit! You don't need to log in, but if you do you can earn cool badges! Do you have any suggestions or want to help improve this wiki? Contact our admin,
Funitel
. Your support is very welcome!
Ship 20 (SN20 or S20 according to the new naming scheme) is a starship prototype. A first section was spotted on 7 March 2021. More and more parts were assembled and the ship entered its final stacking phase at the end of July 2021. Currently, the fully assembled ship is on suborbital pad B for testing. S20 will be flying on booster B4 for a first orbital attempt.
Elon Musk confirmed on 30 March 2021 that the Starships from SN20 will have significant improvements and orbital capability:
"Next major technology rev is at SN20. Those ships will be orbit-capable with heat shield & stage separation system. Ascent success probability is high. However, SN20+ vehicles will probably need many flight attempts to survive Mach 25 entry heating & land intact."[1]
This would mean that S20 will be the first prototype of the third batch of fully stacked Starships, with the first batch being SN8-11 and the second batch being SN15-16.
History
[
]
The first part of Ship 20, the leg skirt, was spotted on 07 March 2021, followed by the forward dome a month later. Most parts have been spotted by May and assembly in June/July. On 5 August 2021 the Ship rolled out to the launch site. S20 was stacked on B4 for a fit check on 6 August 2021 befor being removed again on the same day and returned to the Highbay for final construction. Soon, work on the TPS head shield tiles began: they were marked and some had to be replaced, a work that lasted more than a month. On 13 August 2021, S20 moved back to the launch site and was installed on Pad B on 17 August 2021.
Work on the TPS tiles continued for one month since then. On 27 September 2021, Ship 20 underwent a pneumatic (ambient) proof test and was cryo proof tested for a first time. Some TPS tiles were lost during a header tank went. A more rigorous cryo proof test was conducted on 29 September 2021. After that, Rvac5 (a vacuum Raptor engine with reduced bell size for sea level testing) and a SL Raptor have been installed for the Preburner test (Rvac5) on 18 October 2021 and the two static fires on 21 October 2021.
Outdated Information
[
]
According to FCC documents, an orbital flight of SN20 with a booster was planned no earlier than June 20th. And according to NSF author Chris Bergin, who cites undisclosed sources, SpaceX's goal was to use SN20 and BN3 for a first orbital flight by July 1.[2] This date was postponed to NET August as the progress of preparation work at the orbital launch site with tank farm, integration tower and launch tower suggests.
SN20 is currently thought to become the first orbital Starship, together with B4, with a launch that could happen NET August. As of the beginning of June, stacking hasn't began yet.
Timeline
[
]
07 March 2021: Leg skirt spotted
07 Apr 2021: Fwd dome spotted
11 Apr 2021: Leg skirt spotted (again)
15 Apr 2021: Fwd dome spotted (again)
15 Apr 2021: Comn dome barrel? section spotted (3-ring)
27 Apr 2021: Aft dome being constructed
07 May 2021: Mid LOX section (4-ring stack) spotted
16 May 2021: MID-LOX and Leg skirt spotted (again)
17 May 2021: SN20 fwd dome outside tents (not stacked yet)
19 May 2021: Nosecones in tent 3 [SN17?, SN20?]
21 May 2021: Marcus House: Combinations SN20-BN3, SN21-BN4, SN22-BN5, SN23-BN6, then major upgrades for SN24-BN7
21 May 2021: GSE aft section (3-ring) with reinforcement and lead ins next to SN20 cmn dome [GSE5?]
21 May 2021: Common dome spotted (3-ring), covered in TPS tile attachment pegs, with lead ins, CH4 header visible
23 May 2021: Aft dome near high bay
23 May 2021: New Starship [5-?] ring section with a lot of TPS tiles in a new arrangement and lead-ins moved out of mid bay [SN20?]
24 May 2021: Common dome with CH4 header tank still outside tents
27 May 2021: Starship 3-ring common dome full with TPS mounting pins [SN20?]
27 May 2021: Starship 3-ring common dome full with TPS mounting pins [SN20?]
29 May 2021: Starship fwd dome (stacked and flipped) hooked to crane [SN20??]
04 June 2021: [SN20?] nosecone and barrel section still outside tent three
05 June 2021: "aft" dome spotted
11 June 2021: Thrust/aft dome sleeved (with 3-ring stack)
16 June 2021: Aft dome moved around
19 June 2021: Aft section in tent 1 [vid20]
24 June 2021: SN20/S20 aft dome in tent
03 July 2021: Common dome (3-ring stack) with lead-ins and TPS-tile cover spotted (passive pressure relief valve on it); hooked to crane and lifted into mid bay for stacking it onto Mid-LOX section (header tank visible)
04 July 2021: Mid LOX section with tiles spotted on July 2 during lift into mid bay [Maria Pointer]
06 July 2021: Single ring section stacked onto 2-ring section infront of tents [SN20/S21 aft section used on June 30??]
07 July 2021: GSE3 (fully stacked) and SN20 (two sections) now in mid bay
12 July 2021: Ring section likely for TPS tiles testing spotted [NSF: possibly for SN20/S20]
12 July 2021: Booster section attached to flipping jig inside high bay [B4?]; later flipped [vid 13] [why booster; could it be SN20?]
13 July 2021: Leg skirt with lead-ins (fewer than with old sections)(2-ring stack) moved; covered TPS tiles attachment pins; lifted onto a mount
13 July 2021: Thrust section outside tent 1 (3-ring stack, with access hole)
13 July 2021: Thrust section stacked onto leg skirt
14 July 2021: 07.2021 Aft flap delivered [SN20?]
14 July 2021: Nosecone spotted: new forward flap mounting jig design; lots of TPS pin attachments; four port RCS thruster (vs 3 on previous SNs); superman logo near top of flap mounting jig
14 July 2021: Work in mid bay continued
16 July 2021: S20? aft flap with TPS tiles spotted; the first time with curved tiles like this [!]
22 July 2021: Thrust section (5-ring section) moved into mid bay, connection point for GSE fuelling arm visible for the first time
23 July 2021: S20? nosecone with TPS mount points in tent 3
23 July 2021: SN20/S20 under construction in mid bay (at least 16 rings tall)
23 July 2021: Tank section now fully stacked
25 July 2021: Work in mid bay continued with several man lifts up
25 July 2021: Nosecone barrel section prepared for TPS tiles, with lead ins, possibly for SN20/S20
26 July 2021: Nosecone barrel section with TPS base layer (for SN20/S20?) lifted into windbreak
27 July 2021: WAI internal SpaceX info: B4/S20 [SN20] ready on OLM by August 5th as internal goal!
29 July 2021: Nosecone with blankets and TPS tiles rolled outside tent (likely for SN20/S20)
29 July 2021: Aft flap installation rig moved inside mid bay and affixed to the ship for flap installation
29 July 2021: Fwd flap delivered to build site (SN20?)
30 July 2021: Nosecone: TPS tiles being installed; aft flaps moved near tents
30 July 2021: Ship aerocover unloaded (SN20?)
31 July 2021: Nosecone stacked onto barrel section at wind break; quadratic TPS heat shield tiles spotted near the flap attachment rig; lead-ins removed after the two parts have been welded together
31 July 2021: Tank section work in mid bay continued
31 July 2021: First aft flap installed in mid bay
01 Aug 2021: First forward flap attached to nosecone; smaller sice visible; work on the TPS tiles installation continued
02 Aug 2021: Nosecone: TPS tiles installation continued
02 Aug 2021: Rolled out of mid bay, nearly fully covered with TPS tiles on one site (still some needed near the section welds)
02 Aug 2021: Aft flap installed (with TPS tiles)
02 Aug 2021: Second fwd flap installed, second aft flap installed
03 Aug 2021: Work continued outside high bay
03 Aug 2021: Moved into high bay ahead of nosceone stacking
03 Aug 2021: RV5 and another RVac engine moved towards Starship SN20/S20 for a fit check. They were installed that day.
03 Aug 2021: Nosecone moved and stopped just outside lowbay, more TPS tiles added; later moved to high bay for stacking as well
03 Aug 2021: All six Raptor engines (3SL, 3Rvac) have been installed [Musk]
04 Aug 2021: Nosecone lifted into high bay; stacked at 4:11 am
04 Aug 2021: Unhooked from bridge crane, now fully assembled!
05 Aug 2021: SN20/S20 and GSE6 [NSF]/GSE3 [LP] rolled out to OLS [apparently it was GSE3, vid 07]
05 Aug 2021: Attached to LR11350
05 Aug 2021: Lift scrubbed due to high winds
06 Aug 2021: More TPS tiles installed
06 Aug 2021: Stacked onto B4 by LR11350, fully assembled rocket for the first time ever!!
06 Aug 2021: Removed from B4 by LR11350 after first fit check for final construction, touch-down at 9:45 am
06 Aug 2021: Moved back to build site; into high bay; hooked to bridge crane
07 Aug 2021: Rvac engines removed and moved around
07 Aug 2021: Sea level raptor engines removed
08 Aug 2021: Colored labels attached to TPS tiles, likely to indicate damage that needs repairs
09 Aug 2021: More TPS tiles marked
10 Aug 2021: More colored labels attached to TPS tiles
11 Aug 2021: Moved out of the high bay to prepare it for B4; positioned outside mid bay
11 Aug 2021: Work on TPS tiles continued (labels)
12 Aug 2021: TPS tiles inspection/repair work continued; blue markings "E1", "E2" seen
12 Aug 2021: TPS tile replacement began
13 Aug 2021: Prepared for roll out
13 Aug 2021: A lot of TPS tiles removed from nosecone barrel section
13 Aug 2021: SN20/S20 moved back to launch site; arrived at 11:57am
15 Aug 2021: TPS tiles work continued; also some work on external wiring
15 Aug 2021: Work continued during the night [vid 16]
16 Aug 2021: Work on raceway (electrical wiring) continued
17 Aug 2021: Prepared for move to SoLS pad B for testing (ambient and cryo proof/pressure testings expected); work through access hole
17 Aug 2021: Moved towards pad B; lifted onto the pad by LR11000 (6:13pm)
18 Aug 2021: At least two Rvac engines that were installed on SN20/S20 left Boca Chica
18 Aug 2021: Still hooked to LR11000
19 Aug 2021: Still attached to LR11000, still a lot of green and red labels on TPS tiles
19 Aug 2021: Disconnected from LR11000 at 3.08 pm
22 Aug 2021: SN20/S20 still with a lot of labels on TPS tiles
23 Aug 2021: TPS tiles work continued
25 Aug 2021: TPS tiles work continued, still a lot of red labels; new red labels added near aft flap
26 Aug 2021: Work continued
27 Aug 2021: Work continued
28 Aug 2021: Work on TPS tiles continued
29 Aug 2021: Work continued
31 Aug 2021: Still awaiting testing on Pad A; work on TPS tiles continued
02 Sep 2021: SN20/S20 prepared for upcoming cryo tests
02 Sep 2021: TPS tiles work continued
03 Sep 2021: Work continued
04 Sep 2021: Work on aft section (manlifts going up under skirt) continued as well as on TPS tiles; more work through the access port
05 Sep 2021: Work under skirt ahead of Raptor installation
05 Sep 2021: TPS tiles replacement continued
06 Sep 2021: Raptor engines being installed (RSL); work on TPS tiles continued, now blue and turquoise markings appeared
06 Sep 2021: Work near/through access hatch
06 Sep 2021: Work on Raptor engine at launch site ahead of installation on SN20/S20
07 Sep 2021: Work on TPS tiles continued; coloured labels slowly getting less
08 Sep 2021: Work continued in several areas
08 Sep 2021: Damaged TPS tiles replacement continued, most marked tiles have been replaced or repaired; work in the engine bay
10 Sep 2021: Rvac engine arrived at launch site at 1:36 am; fitted on SN20/S20 at 4:22 am
11 Sep 2021: Work on TPS tiles seems quite complete by now, a few missing on the top of the nosecone, especially around the crane attachment points
12 Sep 2021: TPS tiles work continued; hatch was closed
14 Sep 2021: Hatch opened for work; TPS tiles looking nearly fully repaired
15 Sep 2021: Work continued; manlifts up at access hatch; TPS work continued as well, some markings and missing tiles in the aft area; Raptor engine installation
16 Sep 2021: Work inside the aft section
17 Sep 2021: Work continued (access hatch open, work inside)
19 Sep 2021: Work under aft section
23 Sep 2021: Cryo pipes installed to test stand [?]
24 Sep 2021: RVac puck shucking equipment for SN20/S20 returned to launch site, installed under Ship on test stand B, with center engine thrust pucker
26 Sep 2021: Worked on
27 Sep 2021: Prepared for testing; thrust simulator has been installed earlier; work around the quick disconnect fitting
27 Sep 2021: Pneumatic (ambient) proof test (some TPS tiles lost) and cryo proof test
28 Sep 2021: Testing scrubbed
29 Sep 2021: Work continued ahead of testing
29 Sep 2021: SN20/S20 cryo proof test
01 Oct 2021: Venting
01 Oct 2021: Thrust ram removed from engine section/pad B
03 Oct 2021: Work in aft section
03 Oct 2021: Aft flaps opened during flap test [vid 04]
11 Oct 2021: Rvac5 engine installed on SN20/S20
12 Oct 2021: Work continued on aft section, Rvac5 installation completed
13 Oct 2021: Overpressure notice for today's SN20/S20 static fire attempt issued
13 Oct 2021: Work in the aft skirt area ahead of potential static fire
13 Oct 2021: RC for today cancelled, SN20/S20 static fire NET Thursday
13 Oct 2021: NOTMAR posted for October 14 for potential SN20/S20 static fire; Alert notice issued
14 Oct 2021: Work inside aft skirt continued
14 Oct 2021: Scrubbed static fire attempt
15 Oct 2021: Work under aft skirt continued, as well as through top hatch
Gallery
[
]
Construction
[
]
Rollout for assigned booster
B4 rollout with S20 in the background.
Stacking

Ship 20 attached to a crane for stacking.
Stacking on B4
[
]

Ship 20 being stacked on top of B4.
First full stack on OLM
[
]
                                                                                                               Fly me to the moon                                                                                                                                                                                                                                                                                                                                                                                                                                                                                  ( fully stacked orbital Starship)
FCC
[
]
13 May 2021
[
]
On May 13, 2021, the FCC released information about "Starship Orbital First Flight", describing the plans for the first orbital flight. This flight is planned NET June 20th (No earlier than), the requested period of operation is June 20 to December 20 of 2021.
Flight profile:
Start from Boca Chica, TX
Booster stage separation approximately 170 seconds into flight
Booster performing a partial return and "land" in the Gulf of Mexico, approx. 20 miles from the shore
Starship to continue flying between Florida Straits and achieve orbit
Targeted landing of Starship (upper stage) approx. 100km off the northwest coast of Kauai (Hawaii), soft ocean landing [as known with early Falcon testing], thus some 3/4 around the earth
Detailed flight profile:
+00s Liftoff
+169s MECO
+171s Stage separation
+176s SES
+495s Booster touchdown
+521s SECO
+5420s Ship splashdown (90m, 20s)
More info:
Booster apogee: 380160 feet, 115.9 km
"We need to make sure ship won't break up on reentry, hence deorbit over Pacific" (Elon Musk[3])
FAA
[
]
On May 14, the FAA added a FAQ page for the ongoing environmental review of the SpaceX Starship/Super Heavy project in Boca Chica, Texas. "SpaceX must meet all licensing requirements before Starship/Super Heavy can launch." (Chris B[4]) [FAQ: [1]]
Design Changes
[
]
First prototype with full TPS tile cover
Rvac mounts
QD system [?]
Black LOX tank hatch with different material
Covered up FTS
Lines more tidy
27 September 2021 - Pneumatic (ambient) test; Cryo Proof Testing
[
]
Testing timeline according to different streams (LabPadre and NSF):
14:45 or earlier: Road closed
15:00 Tankers at OLS tank farm; bigger of the two small vertical tanks venting (the one with the speakers); hatch closing at S20
15:40 Man lift down
15:40 Some venting started at the SoLS tank farm
15:43 Man lift up again
15:59 Second tanker truck left
16:03 Man lift down
16:52:29 (Nerdle cam): TPS tiles above left fwd flap (looking towards east) blew away, due to LOX header tank vent[5]
16:54 S20 dent disappeared
17:52 Six additional cars arrived at pad
18:56 Pad cleared
19:41, 19:43 Ship LOX? venting
19:46 More small vents (small CH4?)
20:08 Venting from stand lines/around skirt began
20:15 Lots of venting around the skirt/thrust pucker; condensation on LOX tank
20:25 Fast venting frum thrust pucker area
20:35 Venting slowed down
20:40 Venting nearly fully stopped; LOX depress vent; some CH4 venting
20:45 Short LOX vent
20:49 Tank farm venting
20:56 Satellite dish lifted
21:16 Road opened; huge vent audible
SoLS tank farm venting continued for a long time
28 September 2021 - Scrubbed Testing
[
]
Testing timeline according to LabPadre and NSF streams:
15:42 Sheriff at road block
17:30 Soft road closure (barrier)
17:54 Road closed
18:44 Road opened
29 September 2021 - Cryo proof test
[
]
According to Elon Musk, the "Proof was good!"[6]
Testing timeline according to LabPadre and NSF streams:
14:58 Soft closure
15:44 Road closed
17:05 Man lift with workers for hatch closing down
17:25 Dog spotted
17:41 Lightning alert at pad
17:46 Pad cleared
17:58 Satellite dish down
18:00 Several ventings
18:10, 18:14 LOX/CH4 venting
18:15 Storm rolled in with heavy rain and lightning
19:21 Announcement: Lightning now passed, it is safe to return
19:37 Venting again
19:38 Skirt venting began (around QD)
19:45 Condensation at LOX tank
19:50 LOX vent short; CH4 vent; skirt vent decreased
20:00 LOX frost beginning to form [is it higher?]
20:13 Vent from stand/thrust pucker increased four a short period
20:15 Condensation at CH4 tank
20:30 Lot condensation on LOX tank, several short vents from CH4 tank
20:35 CH4 tank vents continued
20:36 LOX frost increasing; CH4 frost beginning to appear (right at the hight of TPS)
20:43 CH4 tank vents continued; loud vent later
20:50 LOX tank some top frost "Santaclause"
21:00 Frost decreased
21:08 New vent from the side (right to the FTS) spotted
21:12 Unusual vent/condensation from bottom hatch area
21:20 LOX tank nearly fully frosty now
21:53 Several huge LOX vents; CH4 vents
21:54 SoLS tank farm activity started
21:55 Side LOX vent
22:03 More frost on CH4 tank; drone?; no more vent from hatch
22:10 Frost falling off from LOX tank
22:43 Satellite dish moving northwards
23:00 CH4 tank frost increased slightly
23:07 Huge LOX and CH4 vents
23:38 Big depress vents from LOX and CH4 tanks; frost decreasing
00:44 Road opened
14 October 2021 - Scrubbed Static Fire Attempt
[
]
Testing timeline according to LabPadre and NSF streams:
16:16 Sheriff arrived
16:18 Road closed
19:20 Pad cleared
20:57 Road opened
18 October 2021 - Preburner Test
[
]
Testing timeline according to LabPadre and NSF streams (the indicated times in the stream timelines are found to be a few minutes off):
17:00 Road closed
20:30? Ground or some continuous SoLS tank farm venting
21:41 Pad clear
21:49 Drone spotted going up
21:58 Drone spotted coming down
22:26 Drone spotted again
22:27 Recondenser puffs began
22:53 Drone spotted again
22:58 More venting from recondenser, ground venting around S20
23:01 Farm venting spooling up
23:13 Recondenser, fuel loading
23:18 Clear venting from SN20 under skirt, single tri-vent?, but not very constant
23:30 Siren
23:39:02 Preburner test of Rvac5, some small fires left over
23:42 Huge vent heard
00:13 Depress vent
00:27 Road opened
21 October 2021 - Static Fire #1 and #2
[
]
Testing timeline according to LabPadre[7] and NSF[8] streams:
16:51 Sheriff at road block
17:37 Pad cleared [nerdle cam]
17:51 or earlier [on sentinel cam]: Road closed
18:31 Recondenser
18:36 Tank farm venting (CH4?)
18:37 Ground vent
18:47:57 Puffs from S20 skirt - propellant load began
18:48 Tank farm venting increased a lot
18:49 QD vent
18:56 Skirt vent increased, some venting from the ground around the pad
19:00:50 Engine chill (single)
19:05 Dog spotted at road block
19:06 Siren
16:15:45 Water deluge!!!
19:16:15 Rvac5 static fire (clearly on south side of S20 on rover cam), without spurt; no visible condensation, much plume ahead of fire; some things fell of from middle of hull (possibly TPS?, rover cam)
19:16 Engine chill continued, no huge depress
19:23 Huge skirt venting
19:48:28 Second static fire aborted, planned for both engines (plumes visible for Rvac first, followed by SL 0.5 secs later); followed by fast venting from skirt vent
19:56 Skirt venting/chill began to increase again
20:18:24 Second static fire, Rvac5 and SL Raptor (some fire until 18:40, again something falling off)
20:21 Depress vent, vents from skirt; continuous small venting
20:29 Condensation beginning to form on LOX tank
21:23 Road opened
A video of the first static fire of Rvac5 can be found on SpaceX's twitter: https://twitter.com/i/status/1451350259729420288.
12 November 2021 - Preburner Test and Static Fire #3
[
]
Since the last static fire, the four missing engines have been installed. All six engines have been fired during this test for the first time ever.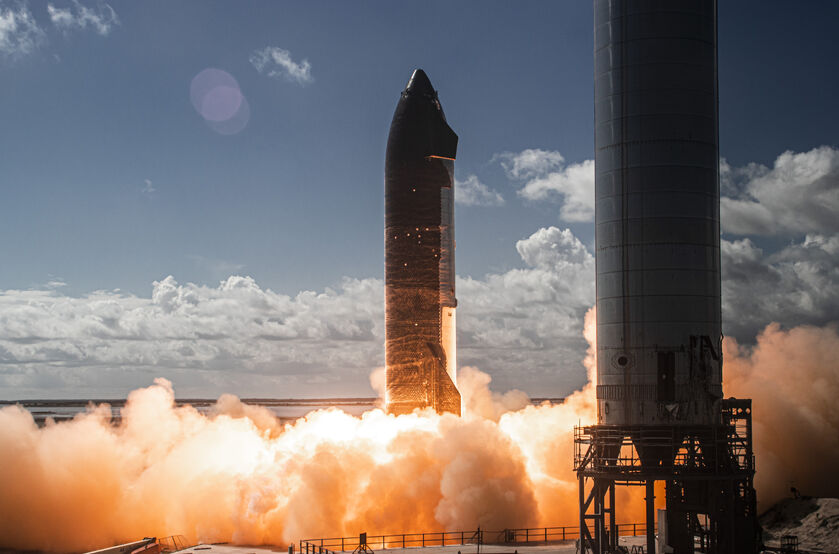 Timeline according to LabPadre and NSF streams:
06:23 Sheriff at road block
08:00 Announcement "Pad clear in 30 minutes"
08:11 Road closed
08:45 Pad clear (no more care seen later)
08:47 LOX? tank venting; as well as OLS tank farm GSE1/S5 (LN2)
08:51 Ground vent (only short) (LOX overpressure vent)
08:54 More venting around LOX tank
09:15 Grass venting again for short
09:50 B2.1 and GSE4 on the move
10:04 Recondenser
10:07 Tank farm activity (LOX tank)
10:09 Lot ground vent
10:21:30 Skirt puffs (condensation) - prop load
10:38 "Prop load" according to LP timeline
10:42 Condensation on LOX tank starting to form
10:49 Short CH4 vent
11:02:13 (:30 on Rover) Engine chill (Bi-Vent)
11:07 Siren
11:15 Constant puffs
11:18 1.5 rings now frosty frost
11:20:59 (Nerdle, NSF; 21:12 on Rover) Preburner test with huge fireball
11:22:52 Bi-vent increased again, no depress yet
11:30 Bi vent pulsing again
11:41:15 (21 on rover) Possibly aborted static fire/preburner attempt (at least 4 plumes seen)
11:43 Whole LOX tank now with condensation (still 1.5 rings frost)
12:03 Vent from upper right aft flap
12:06 Siren
12:07 LOX tank now full frost
12:13:31/32 (Rover) Deluge system
12:13:41 (54 on Rover) 6 engine Static Fire, some tiles lost (at least 9)
12:16 Recondenser started again
12:17:57 Depress vent; LOX frost beginning to disappear
12:24 Vent stack venting
12:30 Atlas dog spotted
13:24 Road opened for roll out GSE4 and B2.1
13:48 Road opened
Elon Musk wrote, responding to Chris Bergin - NSF: "Good static fire with all six engines!"[9]. Thus he confirmed the full 6 engine static fire.
45-50 mins Recondenser; constant white cloud from right side of the three black tanks
1 December 2021 - Scrubbed Static Fire; Nosecone Vent; B2.1 Test
[
]
A quite new fuelling procedure was observable with very early "tri"/bi-vent and a new, upwards facing, vent near the lower access hole. After detank, SpaceX startet testing the B2.1 test tank on the booster test stand, followed by something that could have been a nosecone header tank test on the Ship. It was the first time, both tank farms were simultanously active for a testing purpose.
Timeline according to LabPadre (LabCam time ahead of time) and NSF livestreams:
Before 09:32 Sherrif at road block, one dish down
10:26 Pad clear?
10:39 Short vent, some venting from SoLS tank farm LOX tank
10:49 Short LOX vent again; continued to vent sporadically
11:33 Ground vent
11:34 Long CH4 tank vent on S20 (2-3 minutes)
10:37 Ground vent; continued in short intervals
11:39 Again some S20 venting in shorter intervals
11:50 Recondenser
11:52 Tank farm activity
11:53 Ground vent
12:03 Aft flap vents (two, look like small tri-vent)
12:12? Skirt vent
12:24 Huge bi-vent by now
12:26 Frost/condensation appearing on lower LOX tank
12:30 Much vent
12:47 Venting noise
12;51 Frost above hatch
12:51:49 Pulsing started
12:55 Vapor dump at skirt
12:56 Siren announced
13:00 Frost at least 1.5 rings on LOX tank
13:02:50 unusual upwards facing vent (near the right bi-vent)
13:18:50 Abort: LOX 18:55 and CH4 19:04 depress vents until 19:27
13:24 Full condensation (typical for detank); Tank farm activity looking like spooling down (CH4 vent, flair stack vent!)
13:42 Methane flair stack vent again; detanking
13:47 One sheriff car left
14:01 Sheriff car returned, the other one left
14:36 Frost nearly fully disappeared
14:59 Frost fully disappeared; Long double depress vent (3 minutes); followed by some more tests
15:17 B2.1 "can crusher" slowly getting frosty; top venting started soon after
15:25 Venting from ground around B2.1 started
15:29 OLS tank farm activity spotted (likely active earlier) at the 2 CH4 heat exchangers/horizontal CH4 tanks [but no CH4 at the farm yet]
15:34 Tank farm activity increased
15:39 Second dish went down
15:44 S20 aft flap vent began again (bi-vent)
15:48 Nosecone header tank vent spotted
15:49:40 Header tank vent spooled up a lot
15:52:23 Double depress vent (short); nosecone vents stopped
16:27 Double depress vent on S20 (about two minutes); CH4 and LOX tanks continued
16:35 First dish vent up
16:38 Depress vent continued
16:41:12 B2.1 Top vent closed; commentator spotted debris falling off the bottom, indicating thrust pucking test
16:43 S20 Depress vents
16:55 More depress vents
17:21 Frost on B2.1 slowly beginning to disappear; OLS tank farm "ground vent" (south of south berm) spotted (LOX or LN2 overpressurization vent)
References
[
]